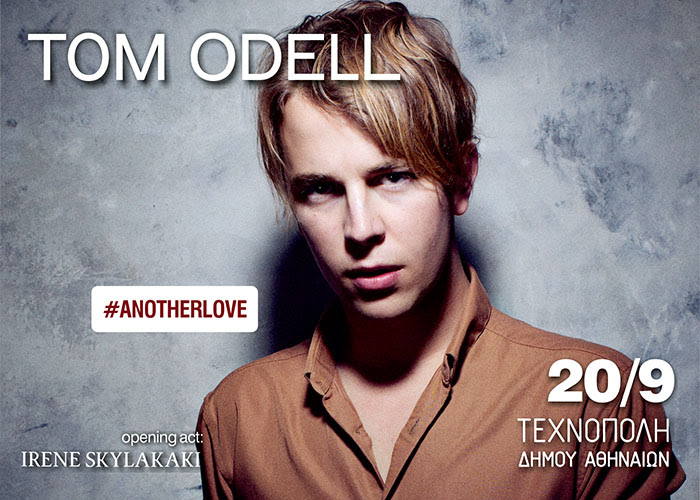 Tom Odell
Τετάρτη 20 Σεπτεμβρίου 2017
Τεχνόπολη Δήμου Αθηναίων
Tom Odell: «Having your heart broken makes for good songs»
Είναι μόλις 26 χρονών και ήδη μετρά 2 ολοκληρωμένα άλμπουμ, εκατομμύρια πωλήσεις και views των τραγουδιών του, υποψηφιότητες και βραβεύσεις σε σημαντικούς μουσικούς θεσμούς, sold out συναυλίες, εμφανίσεις σε μεγάλα festival, όπως το Glastonbury, huge media response και μεγάλες …προσδοκίες.
Τον ακούσαμε πρώτη φορά πριν πέντε χρόνια, το 2012, όταν κυκλοφόρησε το EP "Another Love" (150.000.000 views στο youtube). Kατέκτησε αμέσως τις καρδιές μας, και από τότε τόσο η original version όσο και το remix του Zwette, βρίσκονται σταθερά στο top 30 του ελληνικού airplay…
…και με το πρώτο του άλμπουμ, Long Way Down, αλλά και το δεύτερο, Wrong Crowd, ο Tom Odell έχει καταφέρει να βρίσκεται συνεχώς στην κορυφή.
Τι είναι αυτό που κάνει ένα τόσο όμορφο και νέο αγόρι να γράφει τόσο μεστά, και ταυτόχρονα δυναμικά τραγούδια για τον έρωτα και τα βαθιά του συναισθήματα;
Ξεκίνησε να γράφει μουσική στα 13, ντρεπόταν για αυτό και του πήρε χρόνο να το αποδεχθεί… Τον «ανακάλυψε» η 
Lilly Alen
 και τον έβαλε να υπογράψει στην εταιρία της εν μια νυκτί, σχολιάζοντας πως ανακάλυψε το «αντίπαλο δέος της Adele» και ότι η ενέργεια του πάνω στη σκηνή της θυμίζει τον David Bowie, κριτικοί και κοινό τον λατρεύουν – ακόμα και οι Rolling Stones τον κάλεσαν να ανοίξει τη συναυλία τους στο Hyde Park…
Αυτό το αγόρι που μεγάλωσε με τα τραγούδια του Elton John, αγαπά τον κινηματογράφο, φτιάχνει ιστορίες μέσα στο κεφάλι του, ταξιδεύει στον κόσμο, λατρεύει τις big bands και τον Gershwin, oμολογεί ότι πάσχει από σύνδρομο αδυναμίας δέσμευσης και δηλώνει ότι αντλεί την έμπνευση του από τις προσωπικές του σχέσεις και τη μοναχικότητα.
Το Φλεβάρη του 2013 έγινε ο πρώτος άνδρας καλλιτέχνης που κέρδισε το BRITs' Critics' Choice Award – βραβείο που μέχρι εκείνη τη στιγμή είχαν κερδίσει μόνο γυναίκες, μεταξύ αυτών η Adele και η Florence and the Machine.
Στις επιρροές του βάζει τους David Bowie, Jeff Buckley, Bob Dylan, Arthur Russell, Leonard Cohen, Leon Russell, Billy Joel, Randy Newman, Tom Waits, Rodríguez και Bruce Springsteen και δηλώνει οπαδός των Arcade Fire, Adele, James Blake, Cat Power, Blur, Beach House, Radiohead, Coldplay και Ben Folds.
Η διαφήμιση μοιάζει να αγαπά τη φωνή του Tom και έτσι το cover που έκανε στο τραγούδι της Cyndi Lauper, «True Colours» έντυσε το σποτ με τα μπαλόνια για τη Sony Bravia.
…και με τη διασκευή του τραγουδιού των Beatles' "Real Love" που ήταν το μουσικό θέμα της Χριστουγεννιάτικης διαφήμισης του πολυκαταστήματος John Lewis – διαφήμιση – θεσμό για την Βρετανία και πάντα άκρως συναισθηματικής, που εκείνη τη χρονιά πρωταγωνιστούσε ένα πιγκουϊνάκι που γυρεύει το άλλο του μισό – κατάφερε να βρεθεί στο Νο7 του UK top 40.
Θα βρεθεί για πρώτη φορά στην Ελλάδα την Τετάρτη 20 Σεπτεμβρίου στην Τεχνόπολη Δήμου Αθηναίων για να υμνήσει μαζί μας την αγάπη, τη φύση, τη ζωή…!
δείτε
Τιμές εισιτηρίων
Στην έναρξη προπώλησης η τιμή θα είναι 23 ευρώ (early bird)
Στη συνέχεια της προπώλησης η τιμή θα γίνει 26 ευρώ
Στο Ταμείο την ημέρα της συναυλίας θα διαμορφωθεί 29 ευρώ
Σημεία Προπώλησης
www.viva.gr 
στο τηλέφωνο 11876
μέσω vivawallet
& σε όλα τα καταστήματα
Seven Spots, Relaod, Media Markt, Βιβλιοπωλεία Ευρυπίδης
Τεχνόπολη Δήμου Αθηναίων
viva kiosk στο Σύνταγμα
Σχόλια
σχόλια